Letterboxing becomes
latest craze for hikers

By Bill McDonald
bmcdonald@ctpost.com
---
Weston - We are on a bug hunt. But no bugs are around as we trek the Trout Brook Valley Conservation Area among leafless trees in late November. We are looking for letterboxes on this grey, drizzly day along a trail full of leaves, moss, and glacial rocks of many different sizes.

The latest craze among hikers, letterboxing, involves following clues found on the internet to plastic sealed boxes containing record books and stamps to prove you've been there.

The name of our hike is "The Bug Hunt", and it's rated as novice with a round trip that shouldn't take more than two hours.

Two dozen boxes planted by others around southwestern Connecticut, according to the website www.letterboxing.org, include names like: Calvin & Hobbes in Shelton, Frosty The Snowman in Westport, and Barking Up The Right Tree in Fairfield.

Connecticut is the nation's hotbed with more than 1,400 letterboxes planted around the state, usually under big rocks or in cavities at the base of trees. California is second with only 500, and Ohio third at 475.

This reporter is following Alan Smith, 26, of Milford, an avid hiker with the trail name of Letterboxer2002, who claims to have planted the first letterbox in Fairfield County.

Smith and his brother and hiking partner, 17-year old Jonathan, got tired of driving to places like Mansfield and Storrs in eastern Connecticut where letterboxing is more popular. They planted the first letterbox in southwestern Connecticut in Putnam Memorial State Park in Redding back in January of 2002.

Alan Smith has found a total of 460 boxes and placed 36. He has even made a pilgrimage to Dartmoor, England, the bleak, sweeping moors setting for Sherlock Holmes and "The Hound of the Baskervilles" where letterboxing started in 1854.

That's when a Victorian gentleman hiker put his calling card in a bottle and stuck it into a bank at a place called Cranmere Pool. In Dartmoor last February, Smith found more than 100 of the 10,000 boxes in a week which put him into the prestigious Dartmoor Club.

But today's hike is full of pines and misty rocky hillside. We come up the hill to the first landmark, two concrete platforms, and encounter problems finding the first box, named "True Lady".

"When it says paces, does it mean steps? Once we figure that, it will be easier." said Smith, a middle school music teacher in Norwalk.

We're to look for a marker with No. 35 on it posted on a tree. From this marker take five paces along the trail, look right and see some boulders, head in seven paces and look under the southwestern corner of the boulder to find the box.

Once Smith figures paces equal two of his steps, he goes right to it, opens the box, a cigar box-size plastic sealed container; puts his stamp on the book inside and takes the box's stamp and puts it in his book. There are now three more boxes to find - "Bzzz", "Dragon" and "Bella Butterfly" - before the hunt is over. We find three more within a half-hour.

The last box is a little larger and includes a logbook for comments by previous finders - six of them since the box was planted in September by "Donna and Darrin".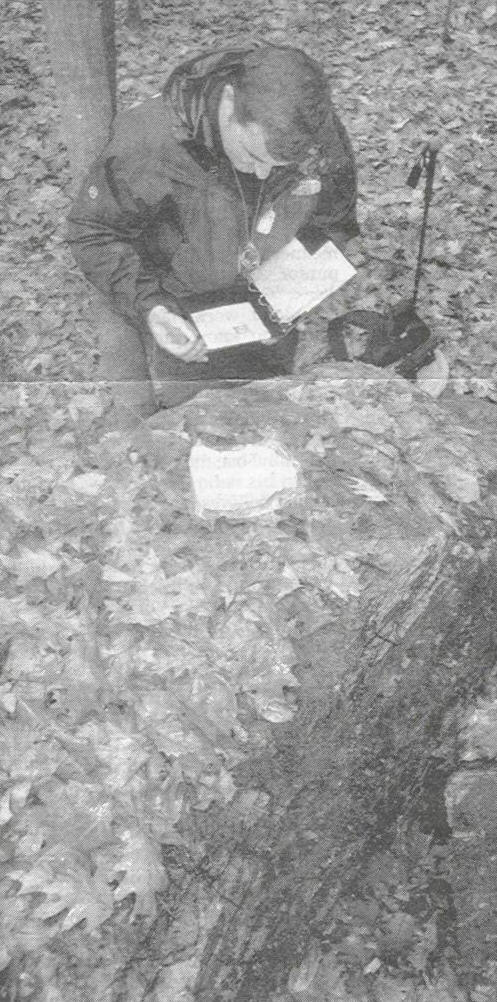 About letterboxing

WHAT - Letterboxing, a new craze in hiking through the woods involving looking for plastic boxes containing identifying stamps to show you've found them.

WHERE - Letterboxes are hidden under trees or rocks by hobbyists in the state and regional parks with clues placed on the internet.

HOW - Connecticut leads the nation with 1,400 letterbox placements followed by California a distant second at 500. Ohio is third at 475.

MORE INFO - Go to www.letterboxing.org or read the recently published book, "The Letterboxer's Companion", by Randy Hall (Globe Pequot Press, 100 pages, $14.95)
---
"It's best to have the box a little off the trail so it's not easily seen by non-letterboxers." Smith said. "Some organizations do not allow letterboxing in their parks since they don't like hikers going off their trails."

He noted there's no such rule with the 30 state forests of the Connecticut Department of Environmental Protection, which encourages letterboxing as a way to attract more visitors.

Indeed, DEP has a letterbox program in which it issues a patch after five letterboxes are found in each one of it's forests and a walking stick if a box is found in each of it's 30 forests.

The Schreyer family of four in Monroe has been letterboxing for more than a year and calls itself "The Hearty Hikers".
"The DEP seems to think this is a good way to have more people use the state forests", said William Schreyer, 56, a computer programmer. "It makes hiking more fun, like a treasure hunt."

The rest of the family , Debbie, 53, Drew, 14, and John, 11, have found a total of 200 boxes in just over a year and always give them each of their four stamps. Their finds also include the "Bug Hunt".

"The boys like to hike more now that there's something to look for," Debbie said. "I like the outdoors, and I like camping. This adds another whole aspect to it."
Helene Flounders, DEP state lands forester who oversees letterboxing through the forestry division, said the idea is to provide education.

"We want people to be more aware of the state forests, and all our clues teach people something," Flounders said. "We can send them through a rare white cedar swamp or an area that has been forested to explain why trees were cut. Cutting trees has a negative connotation and maybe by explaining this way we'll get less complaints."